Roll over or click image to zoom in
4 in 1 Mini HiFU Machine 3rd Generation Ultrasonic Knife RF EMS Pulse Facial Neck Lifting Skin Tightening Anti Wrinkle Beauty Massager
Name:
4 in 1 3rd Mini HiFU Machine
Input Voltage:
DC24V
Size:
230*76*70mm
Working Current:
600mAH
Timer:
20 minute
HIFU Frequency:
2.4MHZ
RF Frequency:
3MHZ
EMS Frequency:
100HZ
PULSE Frequency:
200KHZ
Working Principle:
LED, RF, EMS, Ultrasound Wave
Function:
Skin Rejuvenation, Skin Tightening, Blemish Removal, Anti Wrinkle, Whitening, Lifting
4 Mode:
HIFU/RF/EMS/PULSE
Therapy :
HiFu Ultrasonic, Radio Frequency, EMS Microcurrent, PULSE Massage, Anti Wrinkle Tightening Device, Skin Rejuveantion Massager, Remove Neck Wrinkle, Skin Lifting Wrinkle Remover, Remove Forehead Wrinkle, Remove Double Chin, Remove Eyes Wrinkle, Remove Nasolabial Folds
Feature:1. 2.4MHz HIFU FOCUSED ULTRASOUND :
The ultrasonic focusing point acts on the SMAS layer of the human body to reorganize the collagen in the SMAS tissue without damaging the normal tissue, restore skin elasticity, dilute fine lines, and enhance facial contours.
2. 3MHZ RF RADIO FREQUENCY :
The radio frequency can emit 1 million micro-waves per second, which can deeply warm the skin, promote the decomposition of subcutaneous fat, and quickly open the pores to facilitate skin cleaning.
3. 100HZ EMS MICRO-ELECTRIC :
Massage facial skin in various modes to enhance skin lifting and firming.
4. 200KHz PULSE:
Micro-heat opens pores and promotes voltage circulation in the depths of the skin, making collagen more active and improving skin elasticity.
Operation method:
①Insert the power adapter into the power socket, and the DC head into the instrument tail jack;
② Press and hold the power button for 3 seconds to enter the main interface;
③ Press L to select a mode, HIFU/RF/EMS/PULSE can rotate down to select a mode
④ Press the M key to enter the working state (20 minutes timing), when the mode is over or halfway can press the M key to exit the working state;
⑤ Press L key to select the energy size under working condition(1-5 cyclic selection);
⑥In the working state,press the switch button to turn off or turn on the LED lights;
⑦Long press the power button for 3 seconds to shut down the machine.
⑧ After use, please unplug the power adapter, then unplug the power supply DC head from the instrument, and then wipe the instrument metal probe clean with a wet paper towel.
FQA:Why can't my machine be turned on?
Our machine is wired use, not be rechargeable. Please must plug in Power before use, then press and hold the power button for 3-5 seconds to turn on the machine.
Why does my machine suddenly shut down when I use it?
This is normal. The machine has automatic protection settings and the machine will automatically shut down after 10 minutes of working.
How often do I use it in a week and how long every times?
Usually twice a week. At the beginning of the operation, it is done once every 3 days, and after half a month, it is done once a week, and each operation is about 30 minutes.
Why didn't the water splash when I did the test?
First you need put some water in the round hole of the machine, and then put water on the cup.It is very important that the water in the bottom round hole completely touches the bottom of your container.
Why can't I feel any heat when I use the machine?
The machine itself does not heat up, only in the case of RF working mode, close to the skin and press slightly and wait for 3-5 seconds. You will feel your skin temperature slowly rising. You can also use it with gel for better results.
Why can't I feel the EMS (Microcurrent)?
When you use the EMS Function, first your skin needs to be treated with gel or water.
What should I pay attention to after use it?
1. It is normal to experience mild redness and swelling temporarily after the ultrasonic scalpel operation.
2. Be careful not to go to high-temperature environments such as high-temperature saunas, yoga, etc. within 1 week after the operation, and it is not recommended to expose to the sun.
3. Keep the skin and hair parts clean and hygienic before the operation. Make-up is not allowed on the day of use, and the traces of current make-up should be as clean as possible.
4. Do not wash your face with hot water within 3 days (water not exceeding body temperature);
5. Please pay attention to hydration, we suggest that apply the mask at least 3 times a week
6. Do not eat heavy pigments such as soy sauce, alcohol and spicy food within a week.
7. Avoid the eyeball and Adam's apple during operation.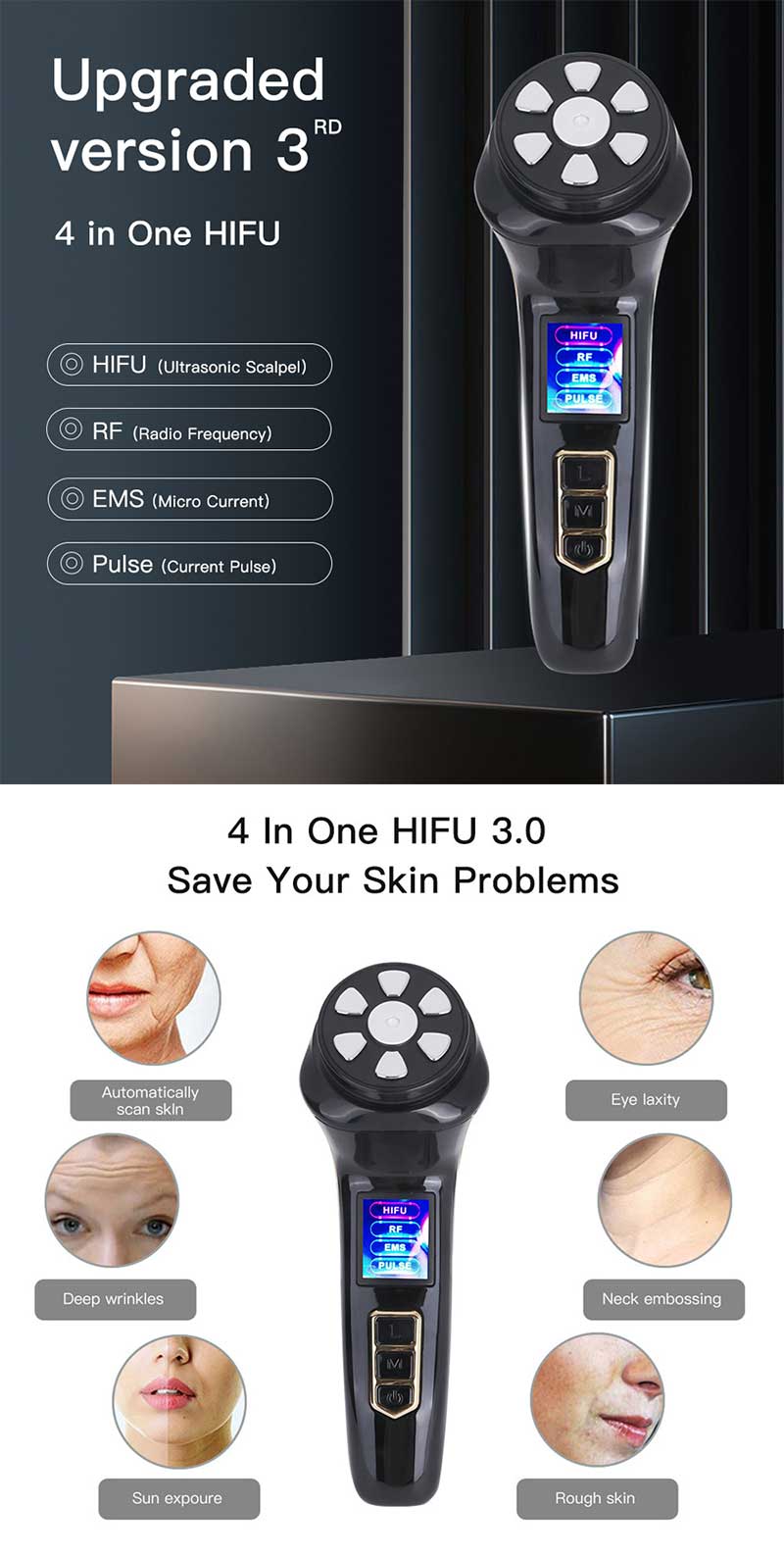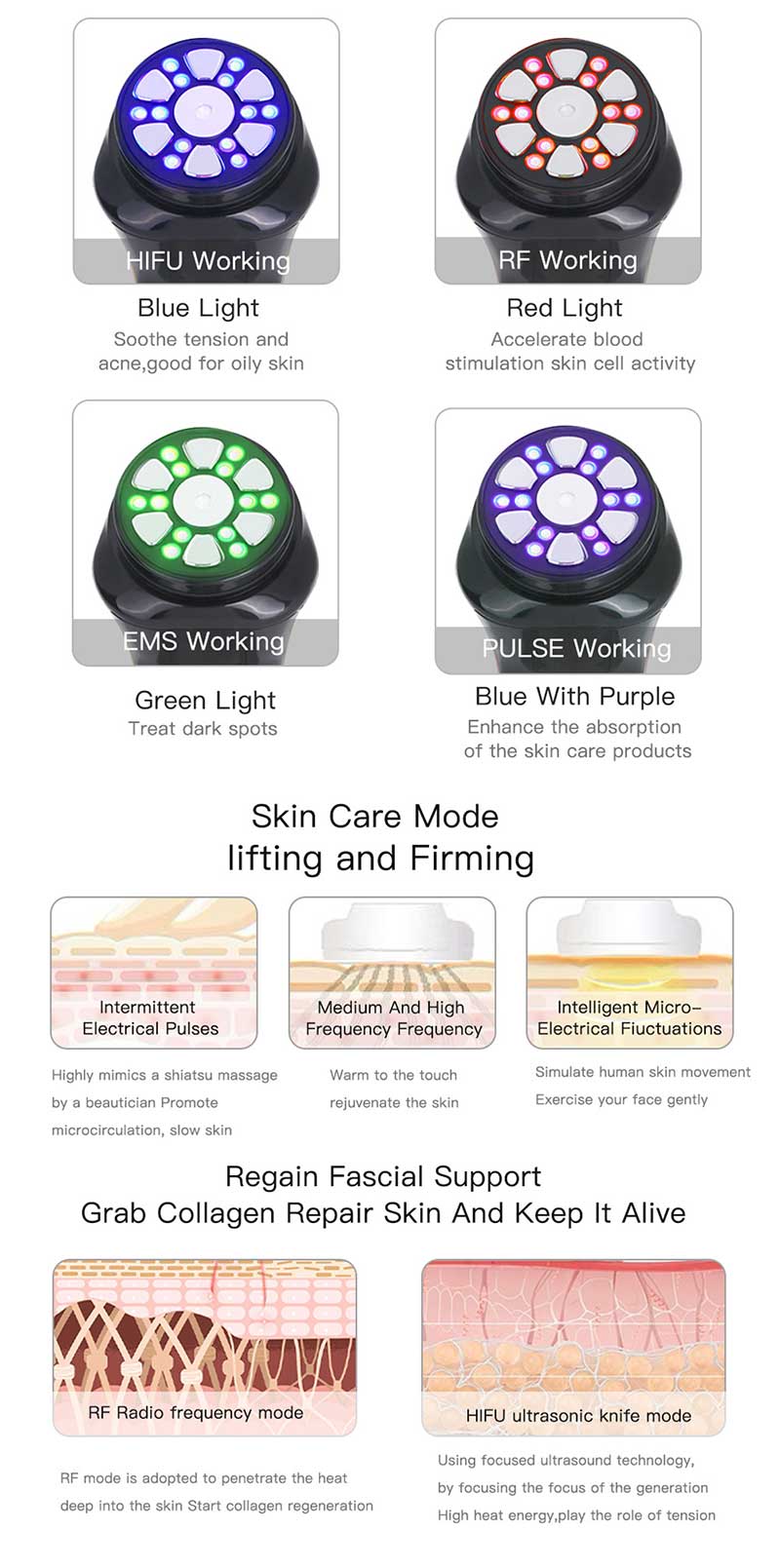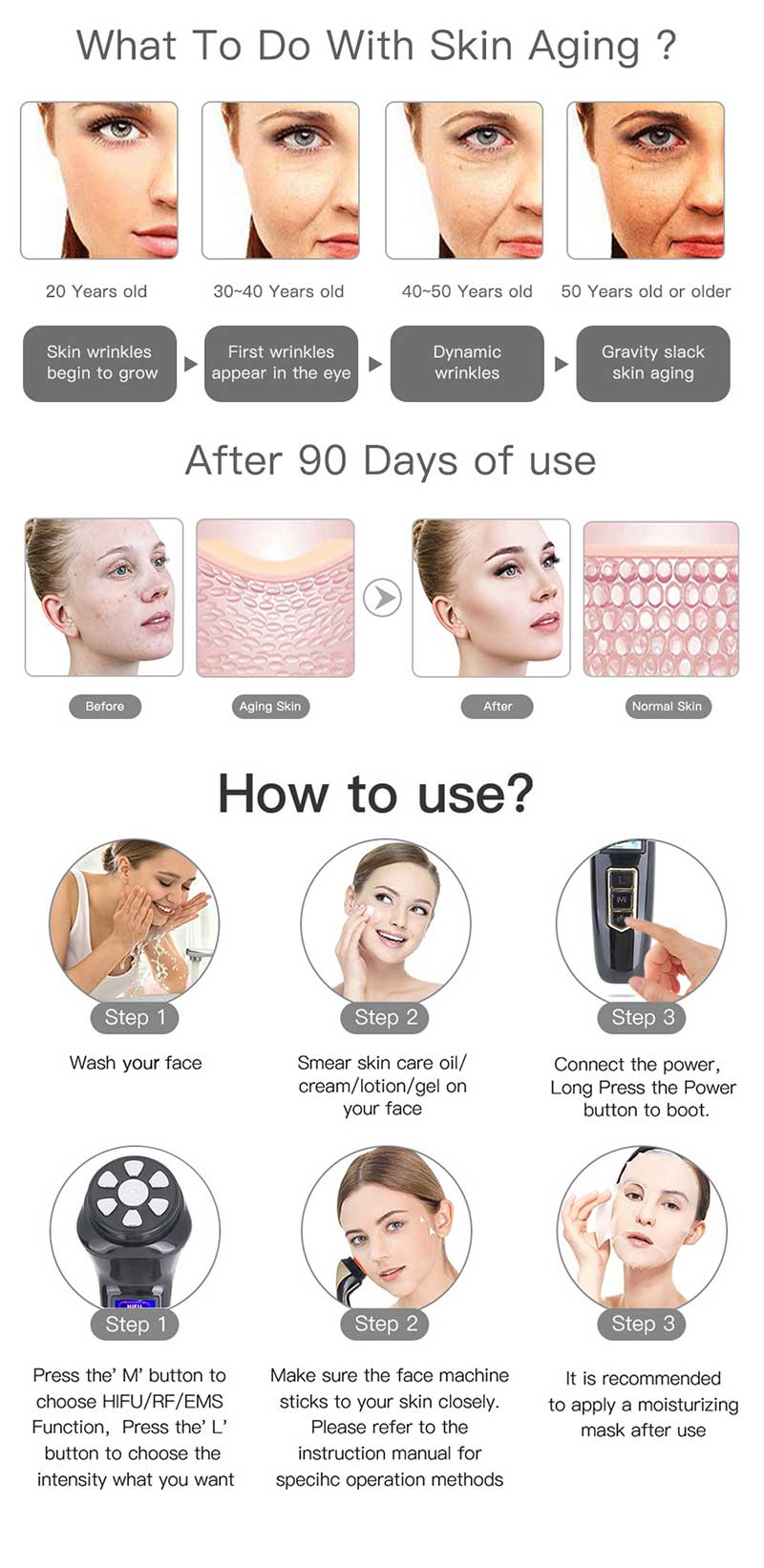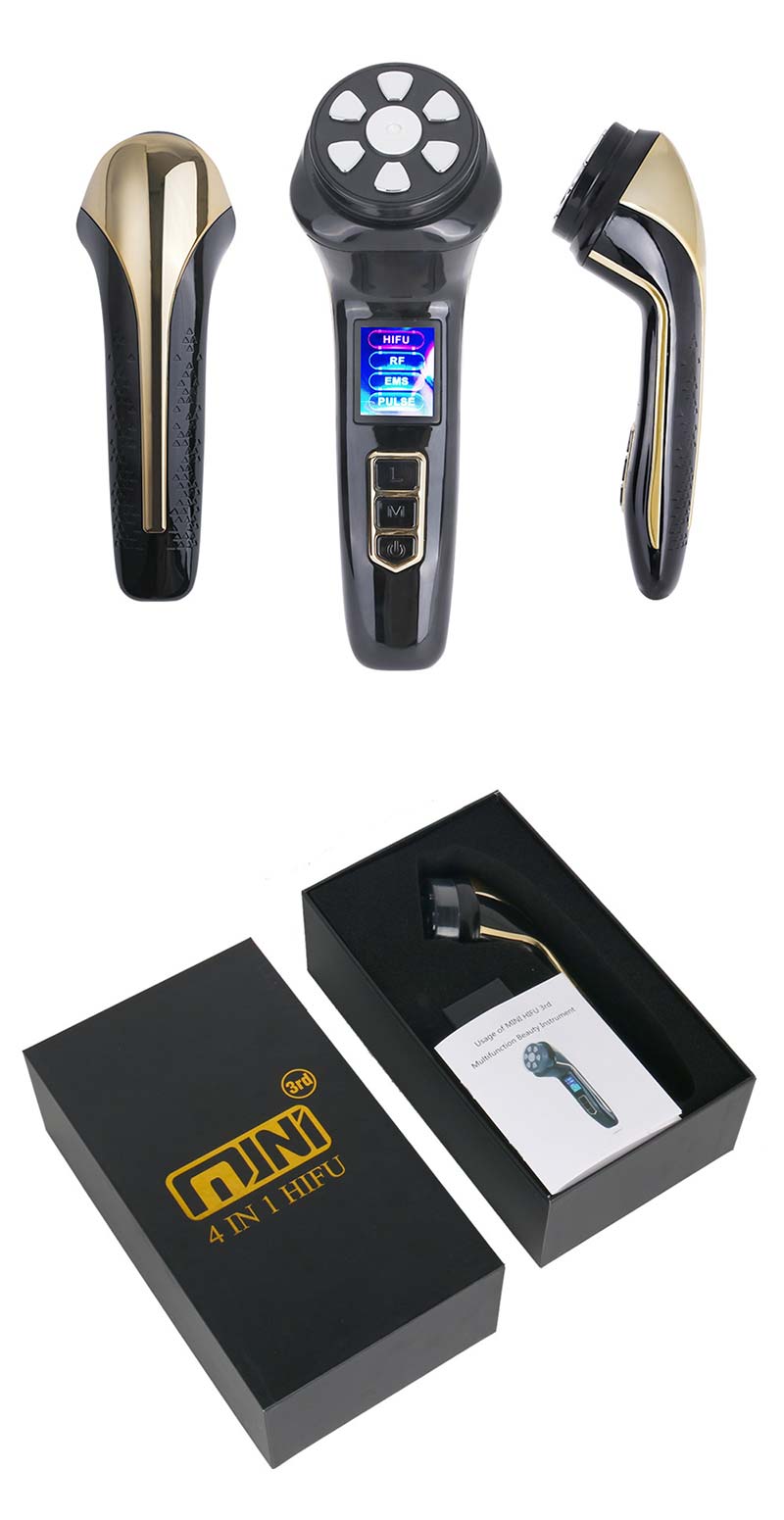 Package Includes:
1 x Mini HIFU Machine
1 x Power Adapter(EU,US,UK,AU Plug)
1 x User Manual
SHIPPING & DELIVERY
It is our pleasure to bring guaranteed service and quality products to our customers. We choose high-quality and guaranteed international freight companies to cooperate with. Standard Free Shipping (Orders over $59), Standard Shipping (Orders under $59) $7.8, Fast Shipping $19 ! Please refer to our Shipping Policy for details!
RETURN & REFUND POLICY
1.We have a 30-day return policy, which means you have 30 days after receiving your item to request a return.
2.To be eligible for a return, your item must be in the same condition that you received it, unworn or unused, with tags, and in its original packaging. You'll also need the receipt or proof of purchase.
3.We do not accept returned items that are sent back by you directly without checking with us first.
4.Please use a local postal courier for returns, not a DHL, UPS or other courier that may incur customs duties.
5.You will be responsible for the shipping fee (the return shipping fee and the resending shipping fee) for returns and exchanges, unless you received a damaged, defective, or incorrect item.
6.Special offers and gift cards can not be exchanged or returned.
Damages and issues:
Please inspect your order upon reception and contact us immediately if the item is defective, damaged or if you receive the wrong item, so that we can evaluate the issue and make it right.
Cancellations:
*After you have completed your order, you have 24 hours to contact our support team and request to cancel or modify the order. If you choose to cancel your order, we will issue a full refund to your account.
*After 24 hours, we've already started working on your order,To cancel an order, please provide all the details concerning the items you want to cancel as well as your order number. After 24 hours order that gets cancelled is subject to a 10% administration fee, this fee includes the payment transaction fee and warehouse handling fee. If the manufacture is at fault for the cancelation of merchandise the fee will not be applied.
*If the order has left the warehouse, you (the buyer) will also be responsible for the return shipping fees plus restocking fees.
Exceptions / non-returnable items:
Certain types of items cannot be returned, like perishable goods (such as food, flowers, or plants), custom products (such as special orders or personalized items), and personal care goods (such as beauty products). We also do not accept returns for hazardous materials, flammable liquids, or gases. Please get in touch if you have questions or concerns about your specific item.
RETURN/REFUND PROCESS:
1.Please contact support@dipmakeup.com first and we will write back to you as soon as possible. Please tell us the details of your order in the email: your name, order number, and reason. We will first check if the product you received meets the requirements for return or exchange.
2.Return/exchange broken or defective item(s): You must attach a picture/ video that clearly shows the broken/defective items and describe the issue(s) with your item. Please let us know if you cannot send a picture and weare happy to help.
3.If you are eligible to return an item and need to return it, we will issue you a return address and RMA (Return Merchandise Authorization) number to clearly write on the label or the outside of the box. We cannot proceed with your request unless the given RMA number is presentand clear on your package and you have provided us with a tracking number via email at support@dipmakeup.com
4.Afterreceiving the return address we sent to you, please return your items within 7 working days. Items returned after 7 days will not be eligible for an exchange or refund.
5.Once your package has arrived at our facility it will take a 3-7 days (in rare cases it can take up to 14 days) for us to process your request. During this period our warehouse staff will verify and account for everything you have sent us. Once we get confirmation from the warehouse that your order is eligible for a refund, we will get in touch with you via email to confirm we have received your return and finalize the process. We will process a full refund to your account within 7-14 days depending on the return conditions.