4 in 1 Mini HiFU Machine 3rd Generation Ultrasonic Knife RF EMS Pulse Facial Neck Lifting Skin Tightening Anti Wrinkle Beauty Massager
Name:
4 in 1 3rd Mini HiFU Machine
Input Voltage:
DC24V
Size:
230*76*70mm
Working Current:
600mAH
Timer:
20 minute
HIFU Frequency:
2.4MHZ
RF Frequency:
3MHZ
EMS Frequency:
100HZ
PULSE Frequency:
200KHZ
Working Principle:
LED, RF, EMS, Ultrasound Wave
Function:
Skin Rejuvenation, Skin Tightening, Blemish Removal, Anti Wrinkle, Whitening, Lifting
4 Mode:
HIFU/RF/EMS/PULSE
Therapy :
HiFu Ultrasonic, Radio Frequency, EMS Microcurrent, PULSE Massage, Anti Wrinkle Tightening Device, Skin Rejuveantion Massager, Remove Neck Wrinkle, Skin Lifting Wrinkle Remover, Remove Forehead Wrinkle, Remove Double Chin, Remove Eyes Wrinkle, Remove Nasolabial Folds
Feature:1. 2.4MHz HIFU FOCUSED ULTRASOUND :
The ultrasonic focusing point acts on the SMAS layer of the human body to reorganize the collagen in the SMAS tissue without damaging the normal tissue, restore skin elasticity, dilute fine lines, and enhance facial contours.
2. 3MHZ RF RADIO FREQUENCY :
The radio frequency can emit 1 million micro-waves per second, which can deeply warm the skin, promote the decomposition of subcutaneous fat, and quickly open the pores to facilitate skin cleaning.
3. 100HZ EMS MICRO-ELECTRIC :
Massage facial skin in various modes to enhance skin lifting and firming.
4. 200KHz PULSE:
Micro-heat opens pores and promotes voltage circulation in the depths of the skin, making collagen more active and improving skin elasticity.
Operation method:
①Insert the power adapter into the power socket, and the DC head into the instrument tail jack;
② Press and hold the power button for 3 seconds to enter the main interface;
③ Press L to select a mode, HIFU/RF/EMS/PULSE can rotate down to select a mode
④ Press the M key to enter the working state (20 minutes timing), when the mode is over or halfway can press the M key to exit the working state;
⑤ Press L key to select the energy size under working condition(1-5 cyclic selection);
⑥In the working state,press the switch button to turn off or turn on the LED lights;
⑦Long press the power button for 3 seconds to shut down the machine.
⑧ After use, please unplug the power adapter, then unplug the power supply DC head from the instrument, and then wipe the instrument metal probe clean with a wet paper towel.
FQA:Why can't my machine be turned on?
Our machine is wired use, not be rechargeable. Please must plug in Power before use, then press and hold the power button for 3-5 seconds to turn on the machine.
Why does my machine suddenly shut down when I use it?
This is normal. The machine has automatic protection settings and the machine will automatically shut down after 10 minutes of working.
How often do I use it in a week and how long every times?
Usually twice a week. At the beginning of the operation, it is done once every 3 days, and after half a month, it is done once a week, and each operation is about 30 minutes.
Why didn't the water splash when I did the test?
First you need put some water in the round hole of the machine, and then put water on the cup.It is very important that the water in the bottom round hole completely touches the bottom of your container.
Why can't I feel any heat when I use the machine?
The machine itself does not heat up, only in the case of RF working mode, close to the skin and press slightly and wait for 3-5 seconds. You will feel your skin temperature slowly rising. You can also use it with gel for better results.
Why can't I feel the EMS (Microcurrent)?
When you use the EMS Function, first your skin needs to be treated with gel or water.
What should I pay attention to after use it?
1. It is normal to experience mild redness and swelling temporarily after the ultrasonic scalpel operation.
2. Be careful not to go to high-temperature environments such as high-temperature saunas, yoga, etc. within 1 week after the operation, and it is not recommended to expose to the sun.
3. Keep the skin and hair parts clean and hygienic before the operation. Make-up is not allowed on the day of use, and the traces of current make-up should be as clean as possible.
4. Do not wash your face with hot water within 3 days (water not exceeding body temperature);
5. Please pay attention to hydration, we suggest that apply the mask at least 3 times a week
6. Do not eat heavy pigments such as soy sauce, alcohol and spicy food within a week.
7. Avoid the eyeball and Adam's apple during operation.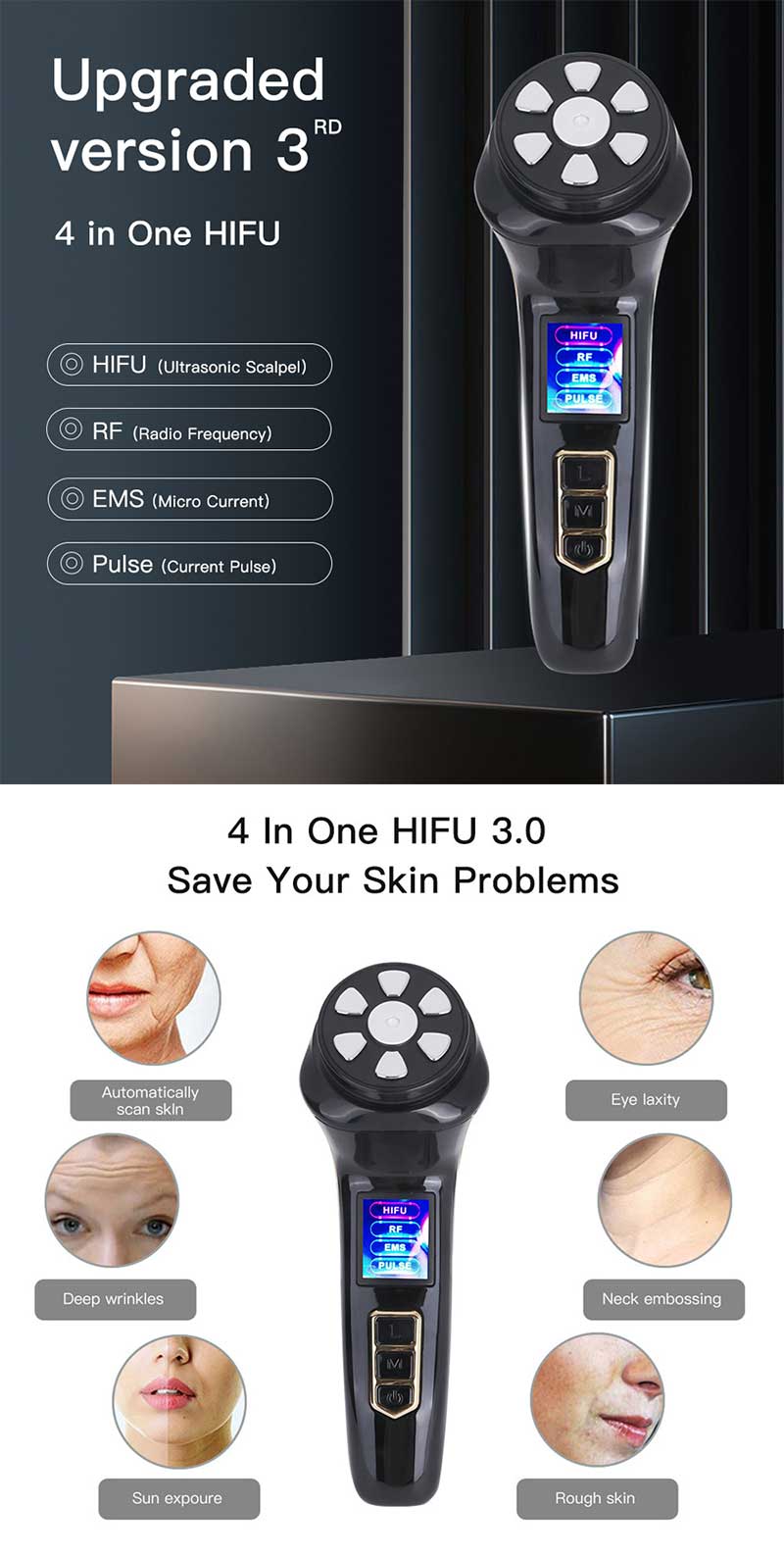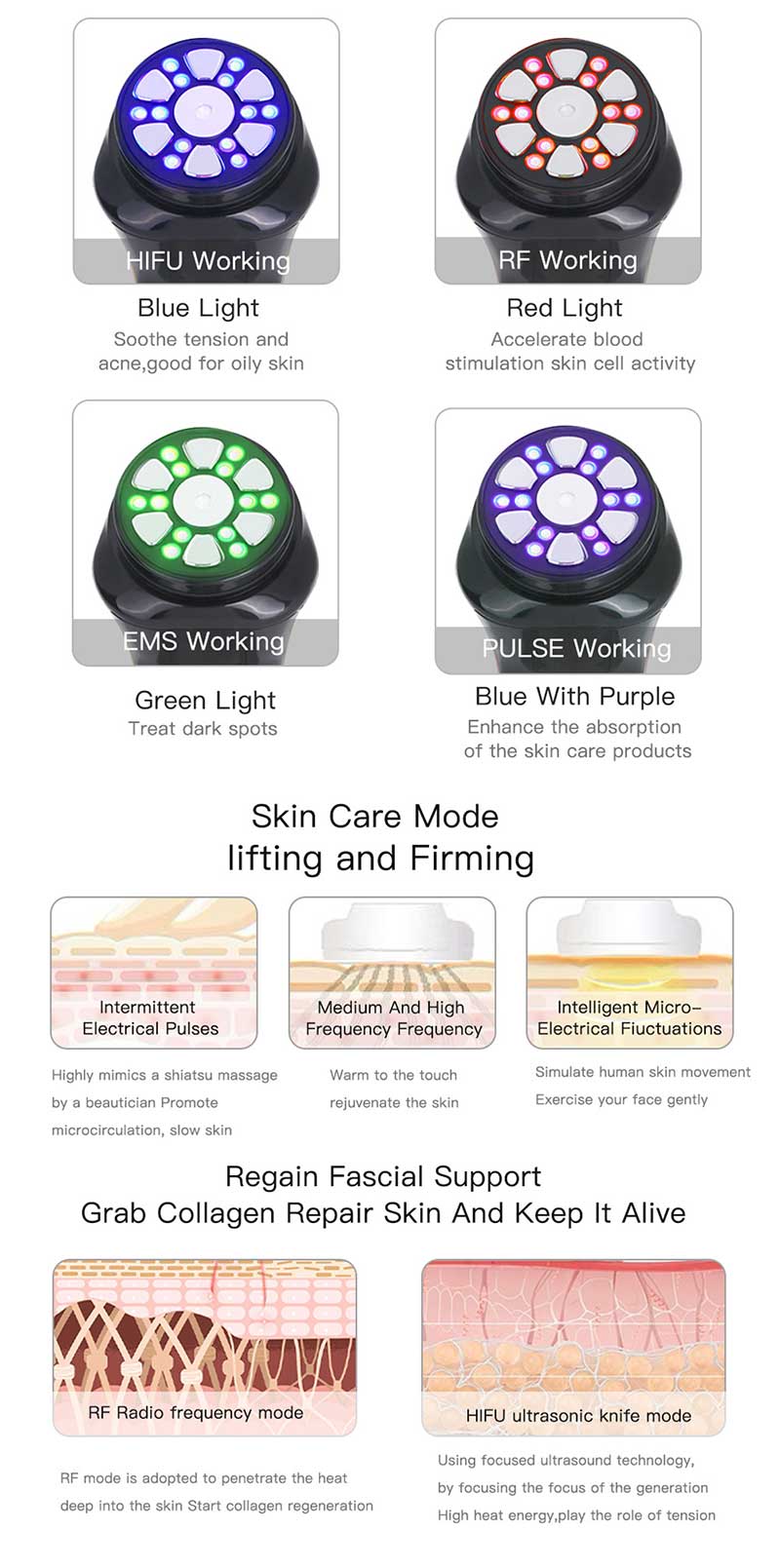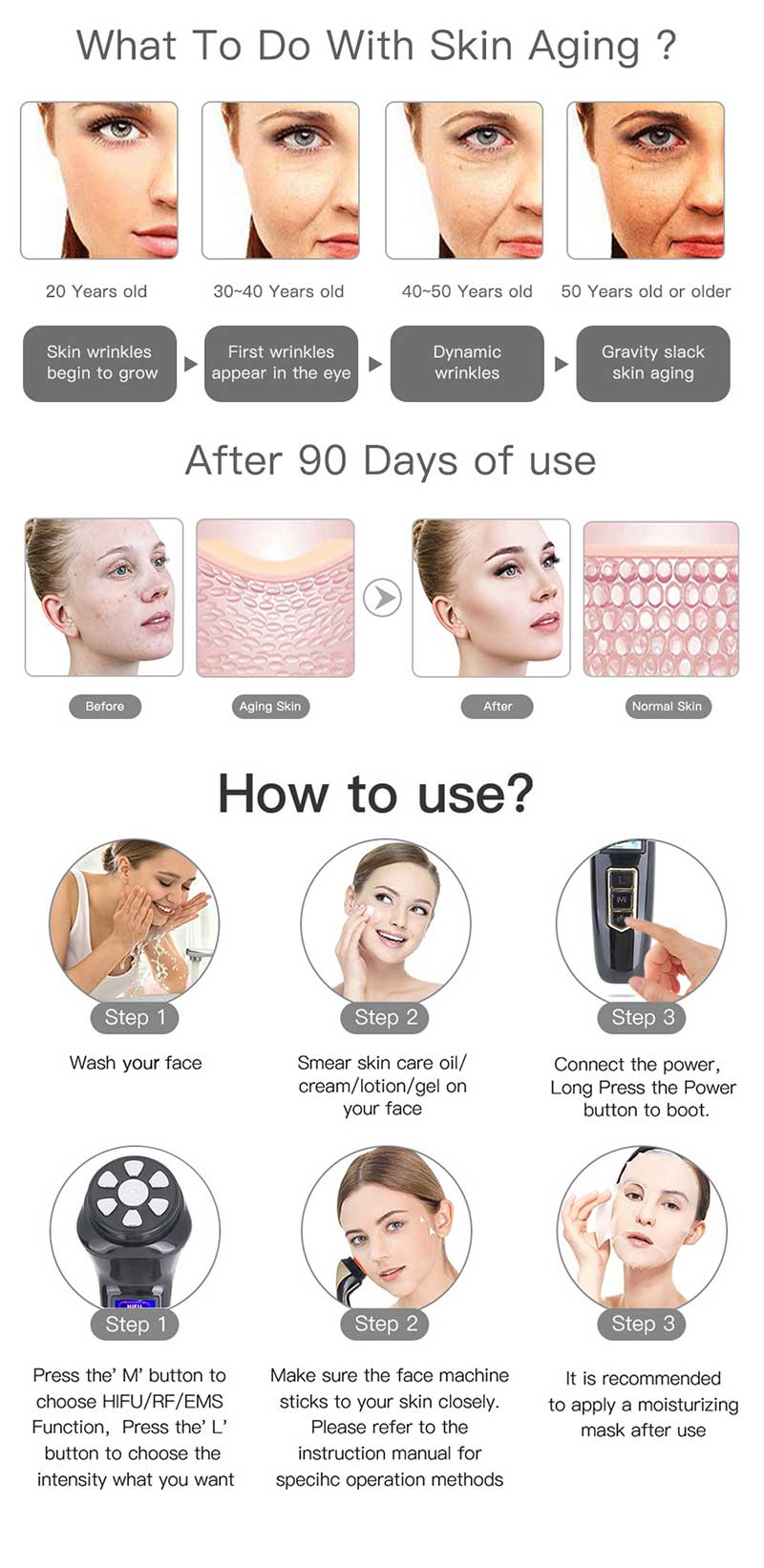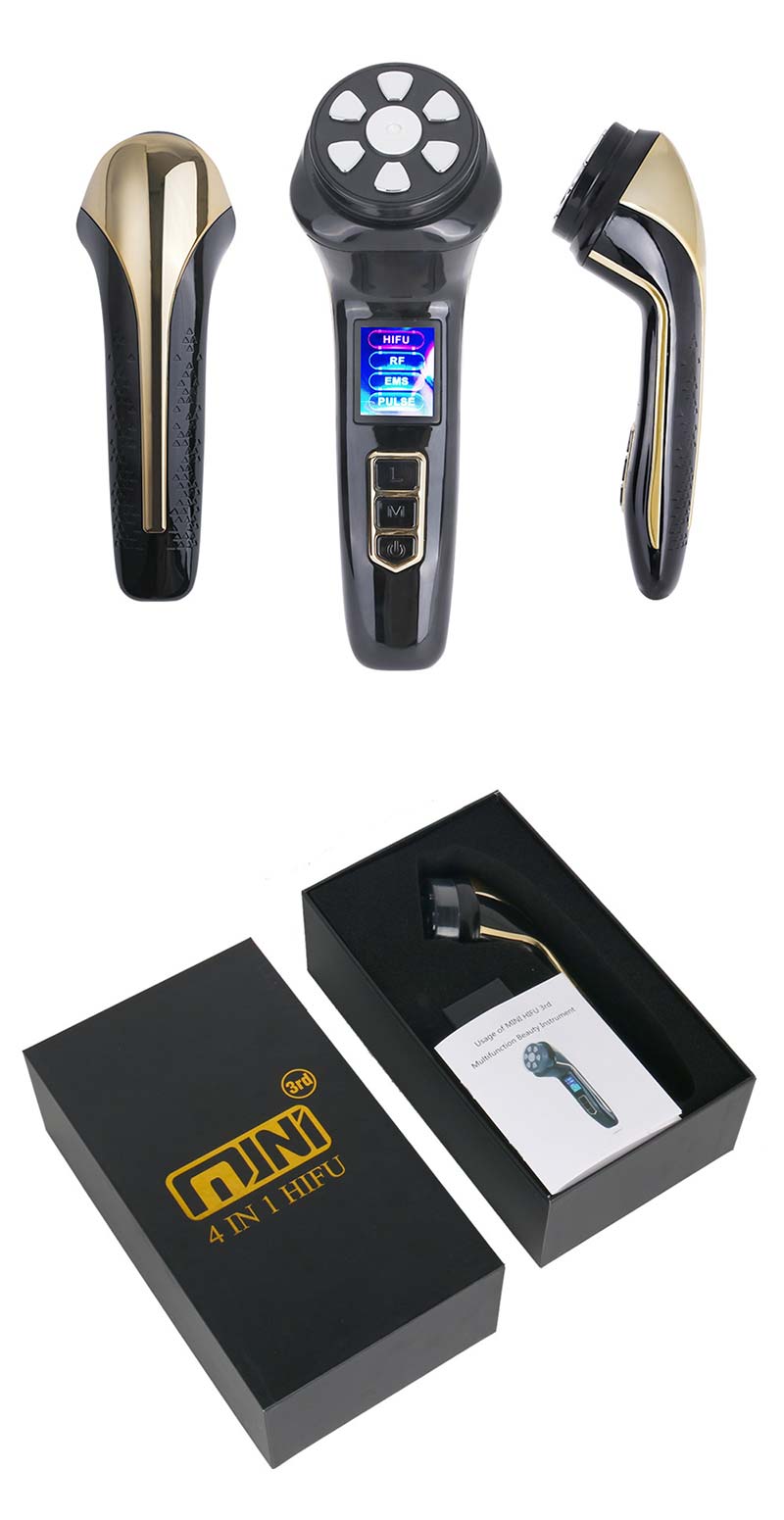 Package Includes:
1 x Mini HIFU Machine
1 x Power Adapter(EU,US,UK,AU Plug)
1 x User Manual
SHIPPING & DELIVERY
It is our pleasure to bring guaranteed service and quality products to our customers. We choose high-quality and guaranteed international freight companies to cooperate with. Standard Free Shipping (Orders over $59), Standard Shipping (orders under $59) $7.8, Fast Shipping $19 !


CUSTOMS
We are not responsible for any custom fees once the items have shipped. By purchasing our products, you consent that one or more packages may be shipped to you and may get custom fees when they arrive to your country.
SHIPPING TIME
Shipping time varies by location, These are our estimates:
Standard Free Shipping (Orders over $59)
1-2 Business days for *Processing time and shipping time for 8-10 Business days

Standard Shipping (orders under $59) $7.8 
1-2 Business days for *Processing time and shipping time for 8-10 Business days

Fast Shipping $19
1-2 Business days for *Processing time and shipping time for 3-5 Business days
Due to the impact of COVID-19, the longest delivery time is possible-20 working days.
*This doesn't include our 1-3 day processing time.
TRACKING INFORMATION
After the order is shipped, you will receive an email with a tracking number. For logistical reasons, even if you specify combined transportation, the same purchase may be sent in a separate package.
PAYMENT METHODS
The following payment options are available:

FAST PAYMENT AND 100% SECURITY BY CREDIT CARD:
We accept payments by credit card (

Visa, Mastercard, Maestro, American Express, Discover, Diners Club.

).
After your legitimation as the legitimate cardholder, we will request your credit card company to initiate the payment transaction immediately after the order has been placed.
The payment transaction is carried out automatically by the credit card company and your card is charged.
Mobile Wallet Payment:

Support Apple Pay, Google Pay fast payment, help you complete payment faster on mobile devices.
Shop Pay:

Powered by Shopify, Shop Pay provides you with faster checkout by securely saving your customers' shipping and payment details. You need to download the Shop Pay App for fast payments and real-time tracking of orders
Payment in 4 instalments:

PAYPAL/ PAYPAL EXPRESS:
During the ordering process you will be redirected to the PayPal website.
In order to be able to pay the invoice amount via PayPal, you must be registered there.
You must identify yourself and confirm the credentials.
The payment process is carried out automatically by PayPal.
IMPORTANT:
When you place an order on our website, your card will be charged immediately and not at the time of dispatch.
If you regret your order and want a refund, please contact us at

 

support@dipmakeup.com first to make sure we haven't shipped it yet, you have 24 hours after placing your order to do this.
It takes between 7 and 10 business days for a refund to appear in your account.
A FEW REASONS WHY BUY FROM US:

SAFE SHOPPING
We try our best to make your shopping experience not only pleasant, seamless and hassle-free, but also secure.

SAFE SHIPPING
Choose high-quality and flexible international shipping companies for cooperation, as well as free shipping and fast shipping options to ensure our quality service and experience.

RETURN PLAN
It's okay to change your mind! You can return your order for a full refund, and we offer you full 30-day buyer protection.

NEW ARRIVALS
Brand new products are available on a regular basis.

EXCELLENT CUSTOMER SERVICE
Knowledgeable and professional support team is always happy to help you.

EASY TRACKING
You will receive a notification email in your email once the package has been shipped. The tracking number and link inside are for tracking the timely status of the package.